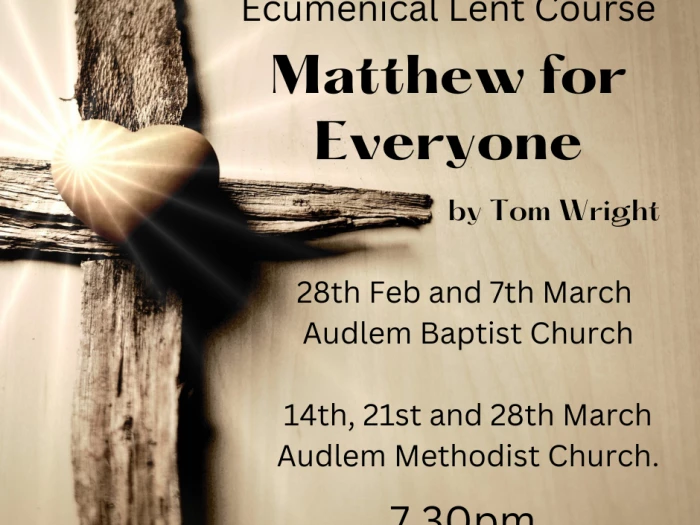 You are invited to join our Ecumenical Lent course'Matthew for Everyone'By Tom Wright
The Gospel of Matthew is an account of who Jesus was, and is to us today. It is abeautifully crafted testimony that has been passed down to us by countlessgenerations. This is our chance to engage with the second part of this Gospel in afriendly and supportive atmosphere. The writer Tom Wright is a contemporaryChristian writer, known for his warm style, deep insights and faithful life. He will beour companion and guide on this exploration.
The course is held on Tuesday evenings at 7.30pm during Lent.
28th Feb at Audlem Baptist Church
7th March at AudlemBaptist Church
14th March at Audlem Methodist Church
21st March at Audlem MethodistChurch,
28th March at Audlem Methodist Church.
Please contact Rev Alison to pre-ordera course booklet (price approximately £5)
Extra invitation: Lent begins on Ash Wednesday, which this year is the 22 nd February.

You may like to participate in a traditional Ash Wednesday act of worship, in which

there is the opportunity to receive the sign of the cross in Ash on your forehead. If

so, you are welcome to attend the 11am service at St James, or the 7pm service at

St Chads. Both services include Holy Communion